Adam Coon (130 kg, Cliff Keen WC) took the road less traveled and it led to one of the most remarkable World Championship runs in US history. But it was a run that ended in startlingly quick fashion and not the way American fans were hoping for.
In a finals match-up that pitted Coon against 2016 Olympic bronze and last year's U23 World Champion Sergey Semenov (RUS), the tension that normally surrounds gold medal contests was sliced in half soon after the opening whistle. Semenov marched into Coon's clutches, and after a brief pummel exchange, locked over/under's — Coon's preferred position. But it was the Russian who seized the advantage, backing Coon towards the line before weaving off of the hold and forcing his opponent out of bounds.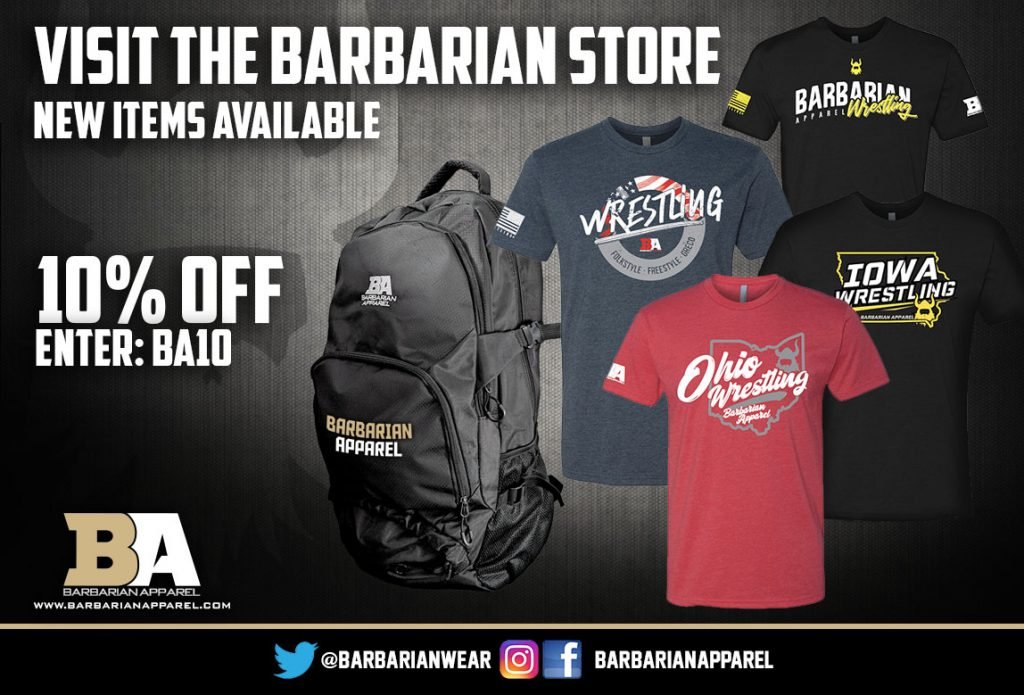 It went further south for Coon following the restart. Again, Semenov was able to wrangle a lock, only this time he deposited Coon to his back. A pin appeared imminent, but Coon fought to his stomach. The scoreboard read 5-0 and the bout was still in its infancy. Five points in Greco-Roman, it can be a lot or a little. With the way Coon performed on Saturday, "a little" was certainly not out of the question with the amount of wrestling still available.
But once they returned standing, Semenov struck the decisive blow. Another over/under lock was achieved, made all the more effective since Semenov had also managed to trap Coon's right arm. It is a classic bodylock throw position. Textbook. Coon could not create a crease and pummel back out, his right limb now rendered unusable. Semenov stepped, turned, and arched Coon up and over for four points. The official end to the bout was marked at 1:09 into the first period and provided Semenov with his first Senior World Championship.
However — Coon's presence in the final delivered the United States something, as well. Coon is now the first American Senior World Greco-Roman medal winner dating back to 2015, when Northern Michigan assistant coach Andy Bisek earned bronze in Las Vegas. The former Michigan Wolverine Coon had already become the US' first finalist since Dremiel Byers in 2009.
Coon's path to the 2018 World final began on Saturday inside of the at-times raucous Papp Laszlo Sports Arena in Budapest, Hungary. There was a lot of hope riding on his chances — both because of his stellar wrestling profile prior to this summer, and also due to the disappointing overall American performance that ushered in the third day of Greco-Roman action. For all of Coon's stardom and the general lens in which he is viewed by America's die-hard wrestling counterculture, the truth is in Greco circles, his advancement to the final came as a surprise to many.
If anything, he was a wildcard. At best.
But down went Rafal Krajewski (POL); down went China's Lingshe Meng. Then it was eventual fifth-place Eduard Popp (GER) who felt Coon's wrath much the same way the first two did. The pattern — the steady, torquing, twisting, devastatingly-effective pattern that few thought possible just a month ago — reached its apex with Coon's semifinal destruction of one Kim Min-Seok (KOR), a compact and agile heavy who finished third at these Worlds earlier today.
Adam Coon did not take his place atop the World podium this year and join the likes of Mike Houck, Joe Warren, Dennis Hall, Rulon Gardner, and the aforementioned Byers. What he did accomplish, for the purposes of this moment, is nearly just as valuable. Coon reminded us what this felt like. The possibilities. The buzz, the excitement, the pride that comes only from witnessing one of our own successfully take on the World's best while representing a community, that too often nowadays, struggles to get out of its own way. Thankfully, those times have been changing, gradually, and Coon now rightfully assumes his share of credit for that fact.
Notes:
The 2018 World heavyweight final was not the first time Coon and Semenov battled. The Russian previously defeated Coon at the 2014 Junior World Championships.
We will have updated placings for all of the US athletes along with a full list of medal winners and additional insights in tomorrow's Monday Roundup. 
2018 World Championships
October 25th-28th — Budapest, Hungary
TEAM USA FULL RESULTS
55 kg — Sam Hazewinkel (Sunkist)
LOSS Ekrem Ozturk (TUR) 8-0, TF
60 kg — Dalton Roberts (NYAC/OTS)
LOSS Etienne Kinsinger (GER) 11-0, TF
63 kg — Jesse Thielke (NYAC/LOG)
LOSS Donior Islamov (MDA) 8-7
67 kg — Ellis Coleman (Army/WCAP)
WIN Edgaras Venckaitis (LTU) via fall
LOSS Artem Surkov (RUS) 3-1
LOSS Mamadassa Sylla (FRA) 5-3
72 kg — RaVaughn Perkins (NYAC)
LOSS Murat Dag (TUR) 8-7
77 kg — Kamal Bey (Sunkist)
WIN Ridong Zhang (CHN) 9-0, TF
WIN Reiner Jimenez Terry (GUA) 8-1
LOSS Elvin Mursaliyev (AZE) 6-2
82 kg — Geordan Speiller (Florida Jets)
LOSS Luis Avendano Rojas (VEN) via injury default
87 kg — Patrick Martinez (NYAC)
LOSS Viktor Lorincz (HUN) 5-1
97 kg — G'Angelo Hancock (Sunkist)
LOSS Peter Oehler (GER) 6-3
130 kg — Adam Coon (Cliff Keen WC) — silver
WIN Rafal Krajewski (POL) via fall
WIN Lingshe Meng (CHN) via fall
WIN Eduard Popp (GER) via fall
WIN Kim Min-Seok (KOR) via fall
CLICK HERE TO DONATE TO THE USA GRECO-ROMAN PROGRAM
Listen to "5PM20: Spenser Mango's Germany report while Jesse Thielke & Dennis Hall battle on Wisconsin trivia" on Spreaker.
SUBSCRIBE TO THE FIVE POINT MOVE PODCAST
iTunes | Stitcher | Spreaker | Google Play Music | RSS
Comments
comments