Success seems to follow Kerry McCoy wherever he goes, and now he is returning to California.
McCoy — 2003 World silver medalist in freestyle, two-time Olympian, and two-time NCAA Division I National champ — is continuing his head coaching career back where it first began: on the campus of Stanford University. It was announced this week that McCoy will be taking the reins of the California Regional Training Center as both head coach and Executive Director, a move that is sure to lengthen that program's reach with regards to the international styles both domestically and abroad.
McCoy took over at Stanford in 2005 after stints as an assistant for Penn State and Lehigh, respectively. He had quickly put the Cards on the fast track towards relevancy, and in his second year, saw five wrestlers qualify for the Division I nationals. After finishing at Stanford in '08, McCoy became the head coach at the University of Maryland where he remained until last year. Under his guidance, the Terrapins won three Atlantic Coast Conference titles and seven wrestlers achieved All-American status. In addition, McCoy was voted ACC Coach of the Year an astounding three times, and was inducted into the National Wrestling Hall of Fame for his athletic accomplishments in '14.


In Palo Alto, McCoy will oversee an RTC that includes several notable Greco-Roman athletes, including '19 Junior World Team member Tyler Eischens (72 kg) and fellow former age-group dynamo Hadyn Maley (130 kg), among others. There will not be a disconnect; aside from McCoy's experience as an age-grouper, he has coached other Greco competitors before and is already familiar with those under his charge thanks to competitive opportunities in other venues. (In addition, he coached '19 Open runner-up Spencer Woods [77 kg, NYAC] prior to Woods' arrival in Marquette two-and-a-half years ago.)
For now, that is all part of the picture but also besides the point. McCoy is one of the United States' most valuable assets due to his wealth of knowledge as a former athlete, and obvious touch for getting the most out of those with whom he crosses paths. This time around, a handful of talented "Greco guys" with serious aspirations are on-board and will be looking to him for leadership heading into a crucial phase of their careers.
They are very lucky to have him.
Kerry McCoy — California RTC
5PM: You have been a D1 coach, obviously, as well as a remarkably accomplished World-level freestyle competitor. It is thought by many within Greco that college coaches tend to be resistant towards their wrestlers training in Greco because they don't want Greco disrupting their folk skills, plus the perceived desire to tune guys for freestyle. Have you ever come across any coaches like that? Or is this by now just Greco paranoia?
Kerry McCoy: I think every situation is different. It was a pretty tough time, especially when the rules were two out of three periods and then grabbing a ball out of the bag, first point scored and last point scored. That was a really tough time for the sport of wrestling and I think that might have turned a lot of coaches off to the international styles.
I think that might have been a big shift because when I came up — and again, we're going back a while — through high school and college, kids were wrestling all three styles year-round. Folkstyle season would end in February or March. For freestyle and Greco season, guys would wrestle both styles, especially locally, all the way through. And then you've got college, where a lot of people would wrestle both but focused on one as you became more intent as to what your goals were. But I think during that time with the two out of three periods to determine your performance it turned a lot of people off to the international styles in general and that might have been a byproduct.
When I was wrestling back in the day — and just hearing myself say that I sound so old — Greco-Roman was basically wrestling freestyle without touching the legs. But then the sport evolved, and with the rule changes and things like that it became a different sport on its own. So it took a much higher level of skill to become successful in the Greco-Roman style, and I think that is something coaches may have looked at and said, Well, I'm figuring out this folkstyle stuff, I'm trying to figure out freestyle, and now this is trying something different. I think it is just the limiting factor of coaches not potentially wanting to take the time to expand their skills, and instead focus on one thing over the other.
I think it is a combination of things that may have contributed to it; but I know for me personally, I have had men's freestyle, women's freestyle, and Greco athletes who I've been able to work with. Wrestling is wrestling. Obviously the disciplines and styles are a little different, but what you get from wrestling is so important that I want to help everyone I can reach their goals.
5PM: You have coached guys who were either Greco athletes before or become one later. If we're going to say "wrestling is wrestling", how do you use your knowledge and insights to help them improve?
KM: It has been said so many different ways by so many different people, and that is position. When you take a good wrestler and a great wrestler, usually the difference is position. If you have a wrestler who is great technically, and another who is in great condition and has great strength, the wrestler who keeps better position is the wrestler who is going to win every time. Even if you have a wrestler who has a little bit less technique, a little bit less strength, and a little less conditioning, but he can stay in better position? The one who really crystallized it for me was Lee Kemp. I remember talking to him a few years ago and he said, "Don't go somewhere you don't want to be." And it's so simple, right? He's a three-time World Champion, and he's like, Hey, I didn't get into positions I didn't want to be in. 
I that is really what my philosophy is when I'm teaching. A technique here, a technique there. You can learn the x's and o's, how to lock your hands, how to fake, and how to move your feet but it's about making sure you're in the right position to be able to execute and score. That's what I focus on the most wrestling any style. Knowing Greco-Roman, I can't grab a leg, I can't shoot a double-leg, I can't trip. Okay, but there are a lot of things I can do, so what are the positions I need to be in to make sure I can be successful?
That is my philosophy, focusing on positioning. If I'm digging for an underhook — and there are a couple of adjustments you have to make. If you're wrestling freestyle and digging for an underhook or you're wrestling Greco digging for an underhook, there are different awarenesses you have to be in position for. With freestyle, someone might step around, hook your leg, and throw you. In Greco, you are not susceptible to that but maybe it's a drag, an arm throw, or something else.
You just have to be aware of your position — head position, hand position, body position — and emphasize that. The technique from there, if you're pummeling keep your elbows in tight. If you're fighting for positon, whether you pummel to a leg attack or a bodylock, that is your technical part. But making sure you are in position and using your feet, using your arms… Position is what I focus on.
5PM: This is a return for you of course, the Stanford campus. At this stage of your coaching career and more importantly, your life, what excites you the most about this opportunity?
KM: The most exciting thing about it is the ability to continue to impact people on a broader scale. I love coaching, I loved my teams that I worked with, and all of the individuals and all of the coaches. I love having that interaction. But — you're still somewhat limited. You're dealing with your 30, 35 athletes, your support staff, your assistant coaches. Your pool of influence, as great as it is, is rather limited. With this opportunity, I can impact and interact with the collegiate athletes at the RTC but I can also get the younger athletes who are aspiring to go to college and aspiring to become international competitors, and work with them.  Also, I can work with the veterans who are out of college, the elite-level guys. The scope and scale of opportunity to work with people is so much broader in this position, and that is really what it's about. Having access to such a wide audience is what most excites me.
After that, it is the leadership of the RTC. The coaches out there, the board members. The vision that they've had and not just providing avenues for athletes to compete and train at a high level, which is a foundation. But marrying that to the idea of setting up our individuals for success after wrestling. Everyone has that commitment of, Hey, we want to put you in position to be successful, but really having a strategic plan and being in Silicon Valley, it's the startup capital of the world, right? All of these startups are filled with people who have dreams. They go out there and get their thing going. Looking at this as a startup is what our board president Will Anderson talks about. It's like, Okay, let's talk about what resources we have and get people investing, connected, and really growing to help wrestling, but also knowing that two, five, ten years — or however long you're affiliated with the regional training center — during that time we're going to build a foundation for you after wrestling. To give you the skills to go out and get a job in the tech sector, the private sector, or whatever fields you're interested in whether you want to stay in wrestling, stay in coaching, or do something else. It sounds cliché, but giving athletes that 360 degree commitment to personal and professional development at the highest level.
Being able to expand my reach and have a greater impact on more people is really important, and then it's the strategic plan of the organization to not just be a place where people can train and get better at wrestling, but a place where people can really take a step forward in their personal and professional development to be better members of society. That is a philosophy I've always had when I was a coach, when I was an athlete. It's all about contributions that allow you to serve as many people as possible. Myself personally and myself with a commitment to the organization is really focused on serving on a bigger scale.
5PM: Training centers attached to colleges have been around for over 30 years in this country but now this whole thing is different in terms of structure and procedural red tape, but one thing no one can argue with is that it has become extremely successful, particularly for freestyle. Did you see the RTC model becoming this influential in the US this quickly?
Kerry McCoy: You know, it's interesting, because again, you go back and look at it historically and the regional training center model in its essence has been around for a long time. Way back in the '80's and '90's, Oklahoma State, Arizona State, Foxcatcher, the Hawkeye Wrestling Club… These great powerhouse programs were investing in their athletes and giving them the opportunity to make World and Olympic championship runs. Then you go back and look, and 1984 through 1996 we won a lot of medals. The structure was a little bit different as far as the resource allocation pieces, but the idea of getting four to six high-level guys living in the area and training in the college rooms was really the foundation. And when you go back and talk to the guys who were making Teams in the '80's and early-90's, they weren't just out there by themselves. They had partners, they had training, they were getting together at different places.
So the structure of the regional training center was in place but over the past ten years it has exploded because now those guys back in the day — and I was kind of on the tail-end. I used to get my butt kicked by Kenny Monday, Kevin Jackson, and Bruce Baumgartner when I was a young college kid and able to build my way up there and transition through those cycles. But those guys will tell you, it was hard for them to train and compete at a full-time level. Most of them had jobs and they would work 40 to 50 hours a week and still get their training in — and still go out and win World Championships. Now, the structure has changed with regional training centers and the financial resources allocated. Now, the athletes who are training can have a little bit more of an emphasis on their training and not on trying to make ends meet.
I think that's why in the last couple of years it has exploded even more, because there was a shift in how these athletes were funded. Through the mid-90's to the early-2000's, that is when the shift started to happen where it wasn't just one or two college programs that had affiliates supporting athletes at a high level. It started to be five, seven, ten, fifteen, twenty… Over the last couple of years when you looked at an RTC roster, and there are different levels, but there are so many active regional training centers across the country, and that means there are a lot of resources being invested in wrestling.
You mentioned earlier about Greco. I know that there are plans in place from the top down to try to improve that structure and that status. The idea that is going into effect across the board is going to have an effect on all wrestling. Then being able to pull everyone in — men's freestyle, women's freestyle, and Greco-Roman — to the highest level allows us to grow the sport at every level. We're making strides. But you don't ever settle. You keep making strides and striving to make things better for the next generation.
5PM: The California RTC has a few wrestlers who are Greco guys between Hadyn Maley, Tyler Eischens, Dawson Sihavong of course, and though he no longer does Greco, a lot of us wish Gabriel Townsell would do it again because of his skills and experience. Have you talked to any of these athletes yet? 
KM: No I haven't, I haven't talked directly to them. Some shot me a few text messages when the word got out. Dawson, I've known for a long time and have had a relationship with him and his dad. Hadyn, he was on a Pan-Am team with me a few years ago, so I know Hadyn. Tyler, I don't know Tyler directly. Gabe Townsell, I know he is figuring out what he wants to do with his career.
Gabe is an example of what makes this sport so great because he has achieved so much in his short time here. He's just over 20-years-old and working on a Stanford degree; he's a National Champion in freestyle and Greco; a World Team member; he's an activist, an artist, a musician. He has so many things going for him and he does not have to necessarily settle on one, but it is just about where he wants to go with it. It is just awesome that he has so many options. Whatever direction he wants to go. If he wants to make a deep run at the making the Olympic and World Teams, he can stay with that. He has a great opportunity. If he wants to get into activism and advocacy, he can. He just brings so much stuff to the table for a young man and it is really exciting to see. Coming out of high school, we recruited him a little bit and he was on one of those Pan-Am teams, so I got to know him on that level. And then just staying in touch throughout the years because I obviously have a strong connection to the Stanford program with Coach Will and Coach (Ray) Blake. I'm excited to see what he does in the future.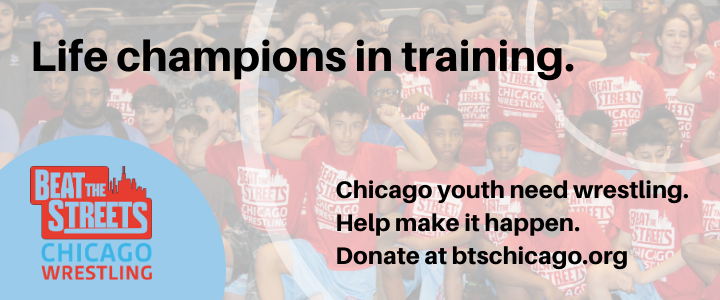 One of the athletes affiliated with the RTC is Ryan Mango, who is one of the more successful Stanford wrestlers and making World Teams already. I know that there is a commitment to Greco-Roman at the RTC. Nate Engel was one of the coaches out here the last few years and he was very influential in getting those guys to a higher level. Even though my strength and background is not in Greco-Roman, I spent most of my time wrestling freestyle, but as I was saying earlier, wrestling is wrestling. Giving those guys the resources to expand, develop, and get to the highest level in Greco-Roman is a priority as well as focusing on men and women's freestyle.
It's pretty unique when you look at it. Right now, the structure we're working on, and we are trying to secure a couple of more guys. But Adeline Gray is one of the top wrestlers in the world and she is a member of the RTC right now. Ryan Mango has been a World Team member and was an NCAA All-American, and he is a part of it. And Dan Chaid, whose dad was a National champ. Last year, they won the Masters Nationals together. I think they were the first father-son duo to win the Masters Nationals, and Dan Sr. went on to win a World championship. We have our age-group commitment, our commitment to women, our commitment to Greco. Even our president Will Anderson is actively competing on the circuit. We reach so many different touch points and it's so exciting to work with that and continue to build something special.
5PM: There are more opportunities now available for more youths to purse Greco before they go to college. The only thing I notice, or only problem with that might be is that there is a big value to the hardness of college wrestling. Because often enough, college guys with not a ton of experience can enter a Senior Open and really challenge full-timers. I don't have an answer as to why this would or should even happen. But it is a push-pull in a sense. I wanted to ask you since I don't know how you see it.
KM: Both have merit and both have differences. Like I said earlier, it comes down to the individual. From my position, so okay, I wrestled for a medal every year I was on the Senior Team. The people I lost to were all medalists. In '98, it was (Andrej) Shumilin, the World champ and (Alexis) Rodriguez. In '99, I lost to the World champ, in 2000 I lost to the World champ and a bronze medalist. I know where I was. In 2003, I lost in the finals, and in 2004 I lost in the quarters (in Athens). That was the only year I didn't lose to a medalist, and he (Marid Mutalinov) wound up taking fourth. But my focus 100% when I was coaching, training, and preparing was on trying to be a World and Olympic Champion.
But it's position, it's wrestling. The idea is that if these wrestlers say at 16-years-old I'm going to be an Olympic Champion in Greco-Roman wrestling, and they commit to it? That's the difference. That is what's happening internationally in Russia, Hungary, Cuba, and Japan. Those kids are growing up thinking about it. I am not saying they have to be fully immersed in it but a lot of our kids, at every level, don't start thinking about World and Olympic titles until they are 22 to 23-years-old. When you are 16-years-old — and for me, I was on the Cadet World Team and the Junior World Team. Tenth grade, three years after I started wrestling, I was wrestling in another country. That right there propelled me. I got a training camp in Colorado Springs, I saw elite-level athletes, and the cycle continued to build. So many athletes now do not see that idea until their freshman or sophomore years of high school, but a lot of them don't see it until 23 or 24-years-old. That is what I think is really the big thing, not necessarily being immersed.
I don't think you have to focus only on one style; but you have to be immersed in the idea that being a World Champion is something you have to be married to 100% for a chance to have success. There aren't too many people who just decide, Hey, the Olympics are next year, let me try to make the Olympic Team. That would be my response, that either way works. But you can have someone who is fully immersed in Greco-Roman 24/7, 365 but if they really don't believe in striving to be a World or Olympic champ, they are not going to be as successful as that same kid who is committed. That's the balance how I see it. Whether you are immersed or not, it is more about the intent of what you are willing to do.
5PM: This is unprecedented territory. Everyone is hoping wrestling returns to normal and that there are college seasons in the fall, as well as the Trials tournaments for the international styles, and so on. Since the Last Chance Olympic Trials Qualifier is likely to be right on the heels of the college season, how do you make sure wrestlers are ready to jump right into what are certainly very meaningful international style tournaments?
Kerry McCoy: Yeah, and the great thing about our society right now worldwide is the availability of technology. You don't necessarily have to be in the same room as someone to have a positive impact on them. A phone call, that makes a big difference. Or I can get on a video call face-to-face and work on individual technique and positions without necessarily having to have my hands on. Those are the tools that will be employed until we can get back together. Just making sure we can remain connected and that I can serve the athletes in any way they need while  we're not in person. And then once we can get together and get back on it, obviously having a strategic plan for each athlete to reach their individual goals and then moving forward collectively as a program.
The one thing philosophically for me that really separates athletes who achieve a high level from those who might just miss the mark are the ones who never falter and fade on their goals and why they are doing it. This has been a very challenging time. It has been tough for everyone. If an athlete sits back for just one second and thinks Maybe this isn't worth it, or, Maybe I'm not committed, or I don't know if I can do this, that is something they have to be able to break through. I don't want to make this as simple as positive or negative. Focus on being productive. Okay, now I have an extra year to prepare so now I am going to be that much better for when it's time to step out and face these opportunities. 
That is what I focus on. Using technology to connect and serve any way I can for when we're not together; and then once we are together, having a strategic plan for success for each individual. With both of those philosophies, just making sure that they are encouraged and staying focused on why they are doing it. When you have your Why? — and you always remember your Why? — then it is a lot easier to get up and go through the day. And then you have a strong foundation and you know that God is going to get us through this. At some point, we're going to get there. And when we do get through this, we've got to be ready. I think that's the biggest thing to focus on for our athletes.

Listen to "5PM37: The wildman Sammy Jones" on Spreaker.
SUBSCRIBE TO THE FIVE POINT MOVE PODCAST
iTunes | Stitcher | Spreaker | Google Play Music
Comments
comments