The bout between RaVaughn Perkins (NYAC) and Ben Provisor (NYAC/BVRTC) that will air Sunday night as part of the inaugural Wrestling Underground event on UFC Fight Pass is of special interest. Not just because it is wrestling in a cage, not just because it's the first all-Greco-Roman match-up to appear on a card this summer, and not because it feels as though Provisor and Perkins need to deliver some memorable, over-the-top type of brawl, even if that is the hope for many.
Instead, the reason why this match offers unusual intrigue is due to one inescapable fact: none of us knows exactly what to expect out of either athlete at the moment. And not knowing what to expect is actually quite rare pertaining to domestic Greco bouts, regardless of who is involved.
Provisor and Perkins have never competed against each other. Prior to the past 12 months, they've never even occupied the same orbit in terms of weight classes. When Perkins first began showing up in Senior events some seven years ago, Provisor was coming off of appearing in the 2012 London Olympics at 74 kilograms. Perkins started his career at 66, the same weight category in which he won both the '14 World and '16 Olympic Trials. Provisor? By the time the Rio Olympic Year arrived, he was up at 85. The two weren't even within striking distance of one another.


As fellow resident athletes at the US Olympic (and Paralympic) Training Center, they would occasionally trade paint in the practice room, though never on a consistent or relevant enough basis from which to draw conclusions. They were just two top dudes in different weights. Nothing less, nothing more.
Slowly, the distance between the two began to narrow. No one noticed or paid attention. When the weight classes were updated entering the winter of '18, Perkins was already planning on moving up to 77 kilograms from 72. He still competed at 72, Perkins did, including at the '18 World Championships and '19 World Team Trials. But he knew that when Tokyo came calling, 77 would be his landing spot. 67 with a same-day weigh-in just wasn't going to happen. Especially given Perkins' injury history, that kind of cut at this stage is inconceivable.
Meanwhile, Provisor stayed put at 87 kilos and remained steady, notching his third US Open title in '18 along with placing second at that season's Trials, and again last year. Although coming up short two seasons in a row presumably didn't go down smoothly, Provisor can stake claim to an impressive distinction that he shares with one other athlete — only he and Ildar Hafizov (60 kg, Army/WCAP) have appeared in the finals of each of the past four Trial tournaments.
But as the prospect of the upcoming Olympiad influenced Perkins' decision to move up, it likewise prodded Provisor to consider moving down.  He still seemed a more-than suitable fit for 87;  the power and pace had not discernibly waned, his par terre efficiency was still among the best of the upper-weights. Plus, it is difficult to note a decline in performance when what passes for disappointment are runner-up finishes at consecutive Trials. Alas, he had set a very high bar. Precisely two American wrestlers have scored wins against Provisor dating back to January of '17: Joe Rau (TMWC/IRTC, world #7) and Patrick Martinez (NYAC). In case anyone needs a refresher, Rau and Martinez have made a combined five World Teams themselves.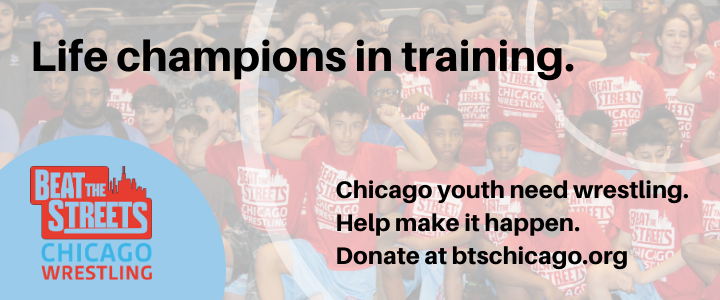 Provisor sees the drop to 77 potentially drawing aces in more way than one. If his physical viability is not diminished by the weight cut, then he may enjoy severe advantages in every meaningful phase of Greco-Roman competition against every opponent, domestic or otherwise. The thinking is that he will pose even bigger problems on the feet, and if his par terre excellence translates over, few in the US at 77 will challenge him in that department.
Moreover, Provisor's height, generously listed at 5'8, is much more conducive to the landscape a full Olympic category lower. His oft-stated desire to embark on an MMA career at 170 pounds following the quadrennium's conclusion is also a factor, though it is hard to imagine that he would risk making one last Olympic Team based primarily on that pursuit. Wrestling still comes first for Provisor, and he is setting out to prove a point — because he knows for as much excitement that his decision created, there have been an equal number of detractors, as well.
The Match Itself
Perkins/Provisor will not be contested at 77 kilograms, but rather, 82 (or more precisely, 180 lbs/81.6 kg). Considering the current state of affairs with regards to training in the US, 81 kilos is perfect. Provisor has not competed this light in over half a decade and Perkins has never competed this heavy, making their agreed-upon weight for Wrestling Underground entirely appropriate for both.
On the Feet
Perkins is a tempo-setter to the enth degree. His 5'11 stature naturally lends itself to a more push-and-pull angular approach, which he uses to great effect when snaring arm drags or executing throw-by's, another of his preferred tools. What separates Perkins from typical drag enthusiasts is that he is not necessarily looking for go-behind takedowns. He gets them, but he is also apt to reel in opponents for body attacks. This is one more deviation from the crowd. Perkins is more inclined to finish forward with a high-leg rather than arch for a conventional bodylock. If the body is not open, Perkins will resort to a weaving pummel. His legs are of great use. On a moment's notice, he can take a deep step back and yank to either clear or create a new, more amenable position. Wasted motion is a rarity. Perkins' style rings with a tone of elegance when compared to his opponent for this evening.
Provisor's calling card is violence. The weapon of choice most often is his right-side underhook, and it can, and has, been thrown like an uppercut. From a distance, not from a classical pummel position. Provisor wants adversaries to know his intentions, so even if he is unable to achieve that righty underhook, at the very least he is engaging a reaction which forces the other guy to reset and become square. But that underhook is an eventuality. It cannot be avoided. Provisor is also "heavy on the head", which is to say snaps and clubs. He will beat on the opposition's head as much as is reasonable if it means negotiating a worthwhile attack. The one trick up Provisor's sleeve that is unique to both his body style and skill-set is the off-balance. Whether from a static pummel or coming off an exchange, Provisor can use either paw to slap down on an opponent's shoulder. The objective with an off-balance is simply to open up windows for potential scoring chances. For Provisor, they have resulted in actual knockdowns. Certainly, it is a sight to see.
Par Terre
Both athletes are gutters more than lifters. Much more. And unsurprisingly, the contrast in their respective body types figures into the equation.
For Perkins, he has developed a "daddy long-legs" gutwrench that is extremely reliable. More of a right-side preference upon initial clasp, he will then run his outside leg across and underneath his opponent as he goes to rotate. Perkins' legs are long, so when he plants the outside foot, his kick-off is tasked with generating an unusual percentage of the requisite force to complete a turn. If that first gut scores, his subsequent attempts are more conventional since he has by then created driving momentum to keep going and going and going. This is not to suggest Perkins cannot or will not lift. He can, and does. But at this stage of his career, and with the rise in weight class, gutwrenches are the go-to protocol.
Provisor is the owner of one of the nation's best gutwrenches. It is a refined technique for him. He has been rolling guts dating back to grade school, and can stake claim to a few variations. The legs are used, they are necessary, but it's the lock that is so difficult for opponents to reconcile. Provisor's wingspan, shorter than most at 87, was a benefit. As soon as he would get locked, those on bottom were already feeling an enormous compressive strain around their ribs — and he wasn't even squeezing yet. Their discomfort level increased by orders of magnitude once he began applying pressure. Similar to Perkins, it's not only about guts. Provisor does have a lift, as well as a front headlock. Neither are featured nearly as prominently.
When it comes to defense, most will give Provisor the edge. He has been turned less than Perkins, at least stateside, and is very good at maintaining static if bottomed-out. However — Provisor has also spent his career as an upper-weight, where the majority of PT attempts are guts. In addition, this is one area where his height is not an advantage. Short wrestlers are more vulnerable to lifts. That hasn't happened to Provisor all that often throughout his career, though it could be something to watch out for since Perkins has promised to go big Sunday night.
As for Perkins, he has defended against a slightly wider assortment of attacks more recently. Proper PT defense demands an element of patience. Timing plays an important role in an athlete's ability to avoid being turned. This is one of Perkins' gifts. He will not rush. That puts the onus on the top guy, in this case Provisor.
Naturally, par terre is on everyone's mind heading into this evening. None of this is steeped in secrecy, nor does it necessitate some "Greco professor" to avail their thoughts. Plain and simple: if Perkins is to emerge victorious, he cannot give up a turn unless he is able to make up the difference elsewhere. Such is the perception. In a bout decided by par terre, the odds, on paper, reside in Provisor's favor.
Why You're Watching
Curiosity surrounds Provisor's descent to 77 kilograms, and even though tonight's match will be contested at a catch-weight, that it is coming against Perkins is a coup for the sport. Prior to this past year, this pairing was not even worthy of a hypothetical discussion. Now we are hours away from witnessing it take place, and on a massive streaming network, no less.
The question fans need to ask themselves is this: does the result matter? Because make no mistake, it should.
The easy route is to dismiss Provisor/Perkins as a unique one-off with neither wrestler in peak condition, and during the weirdest era in modern American wrestling history. There are no stakes involved, no stipulations, and the wrestlers are bypassing a recognized Olympic weight category.
Except, tonight does matter. It matters to Perkins, who intimates gratuity for being included on the docket, and it matters to Provisor for that same reason, plus it is the closest thing to a 77-kg test drive he is going to get for a while. Would anyone believe he doesn't care about how he performs this evening? Of course he does. Provisor normally scoffs at criticism, but this time around even he is not immune to the outside noise. His decision to drop was a major topic last year, and it still dominates most discussions pertaining to 77 in the US.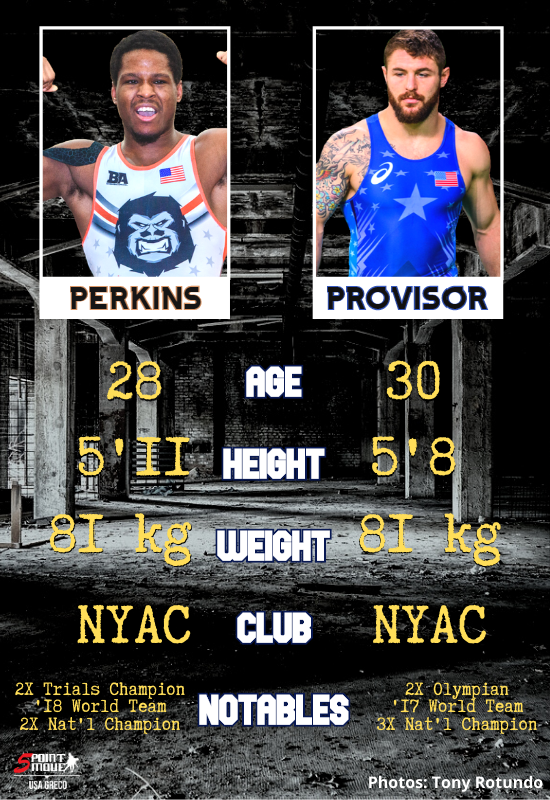 Optics carry significance in the Greco community. People — especially the athletes themselves — are tired of the "Greco is boring" narrative. But it is difficult to change that conversation without logical opportunities to do so. Final X 2019 was a step in the right direction. The crowds responded with tremendous enthusiasm when witnessing big scoring sequences or compelling twists in the action. Since then, it has been crickets, save for Rau and his hybrid bout as part of Rumble on the Rooftop earlier this summer.
The general rule is that if it's important to the wrestlers, it should be important to you. That's it. Tonight is big for Perkins, big for Provisor, and potentially big for all of us. So, it does matter, all of it.
Whoever wins? Not critical. We can drill it down and pretend that it is, and maybe for them as individuals it could be. But ultimately, Wrestling Underground is giving Greco the chance to make an impression on a vast audience with the help of two outstanding athletes who are proud to represent the program.
They are going to create memories in that cage tonight. Support their effort. Be part of changing the conversation.
Provisor vs. Perkins
Wrestling Underground I — Sunday, August 30
UFC Fight Pass — 9:00PM ET (subscription required)

Listen to "5PM39: Lucas Sheridan and Corey Hope" on Spreaker.
SUBSCRIBE TO THE FIVE POINT MOVE PODCAST
iTunes | Stitcher | Spreaker | Google Play Music
Comments
comments