Following a month of rumors, two-time Olympian Ben Provisor (NYAC/NLWC) confirmed earlier today that he will be exiting 87 kilograms in favor of dropping to the next lowest Olympic weight class, 77 kilos. The official news comes six weeks before the first Senior event of the season in America, New York's Bill Farrell Memorial (November 15).
Provisor, 29, is one of the US program's most decorated and consistent competitors. In addition to his pair of Olympic appearances (2012 and '16), the Wisconsin native is also a three-time Open champion and one of only two Greco athletes to have made a Trials final each of the past four years, along with Ildar Hafizov (60 kg, Army/WCAP).

When reached today, Provisor insisted this is a move influenced specifically by a desire to compete in a weight class more amenable to his body type. Though known for his immense power and compact, muscular frame, Provisor had also been one of the shortest athletes at 87, a weight class worldwide where height/length are seen as prominent assets. At 77 kilograms, his (billed) 5'8 stature would be considered average, and may serve to further complement his brutally effective pummel game. However, size was not Provisor's sole determining factor. Plain and simple, at this juncture of his career, Provisor feels rejuvenated after committing to the decision to cut down and expresses unflappable confidence that his body will cooperate.
It has been a while since Provisor has competed below his most recent weight category. As a 21-year-old in 2012, he won the 74-kilogram spot for the London Olympics, but had made appearances at 84 kilos before then, as well (including for the 2010 Junior Worlds). He eventually tried his hand at 80 kilos upon its introduction in '14, and following a series of injuries, returned for the 2016 Olympic Year at 85, when he emerged victorious in the Iowa City Trials over Jake Clark (Minnesota Storm). 87 kilograms entered the curriculum in January 2018, the weight category in which Provisor had made the last two World Team Trials best-of-three finals series.
Ben Provisor — 77 kg, NYAC/NLWC
5PM: When did you start thinking about all this?
Ben Provisor: Probably right around Final X. I was mulling it over with the coaches, just kind of saying, Hey, do you think I can make this? We have one of the best dieticians in the world with Training Lab out in California, and we spoke with them. They confirmed the belief that I can make it pretty easily. I've been on a diet for almost three weeks and now I know I can definitely make it.
5PM: Are you doing a test cut separately, or are you going to test it out in New York (at the Bill Farrell Memorial)?
Provisor: I'm going to New York. I'll be wrestling 77 in New York.
5PM: How do you feel walking around lighter now?
Provisor: I honestly feel the best that I have felt probably since Rio. I feel great.
5PM: When you're moving around in practice at a lighter weight, do you notice a difference in your body at all? I'm talking in terms of stamina, viability, strength, and so on. 
Provisor: Last week, no I didn't. Maybe in a month when I get down, you know? All I have to do is sit at 82 kilos and then I am only five kilos away. That's my goal and I am only a kilo away from that right now. Physically, I'm fine. Yesterday we had our full practice and I felt great. I'm in great shape just like I was at 87, but I weighed 83 after practice.
5PM: Has the diet been at all difficult to adjust to?
Provisor: Last week was hard. Last week was the first time where it felt like I was cutting weight in like, four years, since I moved up. So, it was difficult, but the coaches and I discussed how once you get over that two-week hump of eating different foods — eating less and eating the right foods — your body adjusts to it. Now I feel as though I have adjusted. Yesterday after practice I was 83 kilos and I felt great. I lost three kilos during practice and I still have fat on me. It is actually going to be a pretty easy cut.
5PM: Is there a plan for after New York with your coaches and nutrition people as far as dieting and training going forward? For instance, are there certain diet plans that will be in place in between events?
Provisor: No, I don't think it's really a diet plan at all. It's just a lifestyle. Right now, our college guys are going really hard getting in super-good shape and getting skinny for the season. Josh Rodriguez, who is my best friend on the Nittany Lion Wrestling Club team, and I have committed to a certain lifestyle and training a certain way. I think the biggest difference I've made is the amount of sleep I get and the time I go to bed. I make sure I am on a really strict sleep schedule. I wake up early every morning, I go to bed early every night, and I am just busier with an active lifestyle. I definitely think going to bed at an earlier time and waking up earlier has set my body's schedule at a different mode than it was in before.
5PM: Does changing weight classes, especially at this stage of your career, add a different twist? You know what I'm saying? Is it something exciting, something new?
Ben Provisor: I definitely feel fresh. I feel like this is a fresh move for my career. Before Rio, I was having a lot of relationship issues and then I moved from Colorado and that was a big change for me mentally. Now, this is another step I need to take to fulfill my dream of being an Olympic Champion. I kept asking God what he wanted me to do. This is the answer I came up with and I have set my intentions on becoming an Olympic Champion at 77 kilos. I started my diet about three weeks ago, and it's going great. My intention is to carry out what I told God I'm going to do. I am going to go out there every single day and try to do my diet to the best of my abilities and work to become the Olympic Champion at 77 kilos.
Follow Ben Provisor on Twitter and Instagram to keep up with his career and competitive schedule.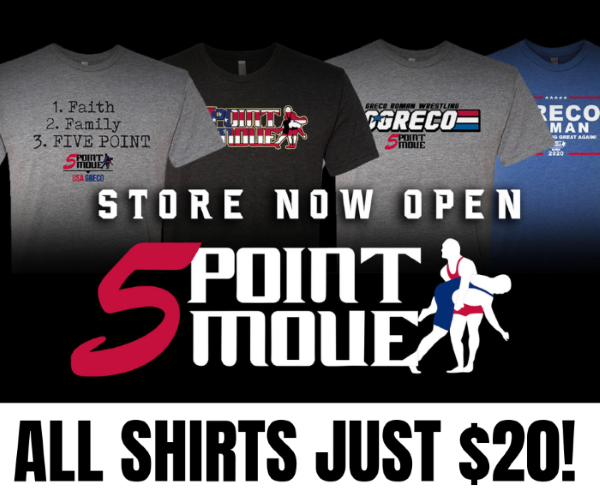 Listen to "5PM28: G'Angelo Hancock, Joe Rau and Max Nowry" on Spreaker.
SUBSCRIBE TO THE FIVE POINT MOVE PODCAST
iTunes | Stitcher | Spreaker | Google Play Music | RSS
Comments
comments