The best part about wrestling is the innovation brought forth by each subsequent generation.
Nelson Baker, former National-level Greco-Roman competitor and University of Wisconsin-LaCrosse wrestler, is here with a new technique he has dubbed the "Hellbender." Baker refers to the hold, which is achieved from top par terre, as the nasty combination of a front headlock, straight lift, and assasin.
There are two main variations of the Hellbender Baker demonstrates in this video.
The first involves pulling the defensive wrestler's body across Baker's outer leg (in this case, his right), wrangling tight on a front headlock, and then pendulum stepping the inner leg around while keeping his backside down. For the finish, Baker maintains the tight front head and takes the defensive wrestler over his shoulder for what would be two exposure points.
Variation I:
Step 1: Pull defensive wrestler's body up onto the outer leg.
Step 2: Clamp front headlock underneath opponent, locking tightly.
Step 3: Pendulum swing inner leg up, over, and around opponent.
Step 4: Keep lock and take opponent over the shoulder.
The second variation is simpler in its mechanics. Baker repeats Steps 1-3, but for the finish, he turns inside, taking the defensive wrestler straight to his back.
Variation II:
Step 1: Repeat Steps 1-3 from Variation I.
Step 2: Maintain lock and turn towards opponent, planting him/her on their back.
For anyone who is skeptical that the technique may be called for offensive legs in Greco-Roman, particularly for the first variation which sees the offensive wrestler achieve the turn with the leg draped over his opponent's midsection, Baker says not to worry as it has been tested in competition. "A ton of Wisconsin wrestlers were hitting at Greco state and I didn't see it called once," he confirmed.
So, test it out and try it on for size. There is no doubt that this is a creative and workable turn worthy of some drill time.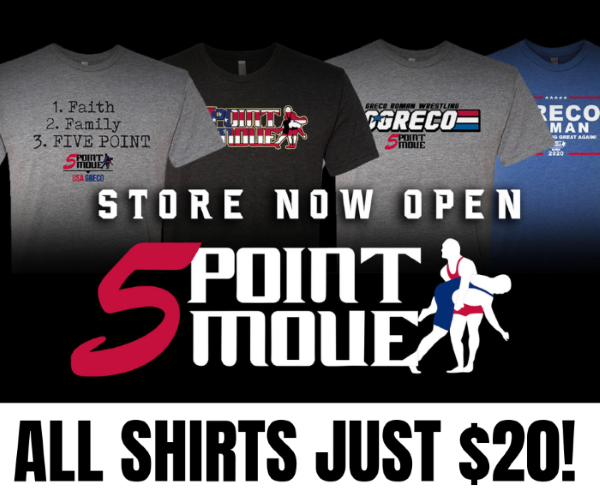 Listen to "5PM26: Princeton's Lenny Merkin and new USOTPC Greco-Roman athlete Nolan Baker" on Spreaker.
SUBSCRIBE TO THE FIVE POINT MOVE PODCAST
iTunes | Stitcher | Spreaker | Google Play Music | RSS
Comments
comments