Over the course of this ongoing Olympic cycle, a principle theme championed by United States National Team head coach Matt Lindland has been one of enduring gratefulness.
Lindland's usage of the word "grateful" on this platform, particularly in the litany of Coach Reports which bear his name, is nothing short of prolific. It is constantly preached, though "implored" might be more accurate. Of the 17 editions of the Coach Lindland's Report that include grateful, nine of them explore the topic with great detail. In most instances, he takes care to exemplify various training-related circumstances which demand, in his view, the need for US wrestlers to demonstrate appreciation for what it is they have.
His goal is not to condemn those who may operate with a sense of self-entitlement, or to forcefully promote such a concept whilst brandishing the iron fist of a taskmaster. Rather, Lindland passionately discusses the need for gratefulness in order to shine a light on an equally-important behavioral perspective: humility.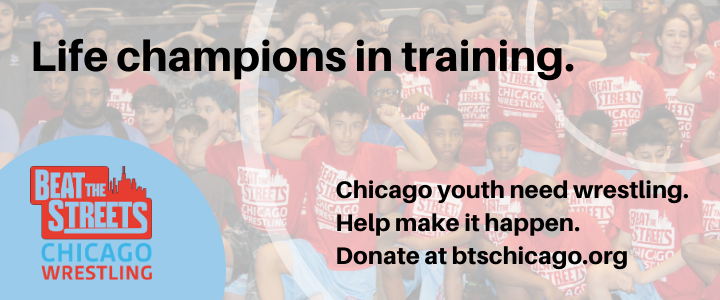 One cannot know they are humble, or, with any shred of honesty or self-awareness, tell others that they are. The only authentic means in which humility can be expressed is through gratefulness, and that can occur in any number of ways. It doesn't always require speech. Actions tend to send a message, as well. Self-sacrificial giving is a good start. Several well-known Greco athletes routinely give up their time and their dime to ensure teammates and training partners have places to stay, food to eat. Others lift contemporaries up in interviews and stories, often in hopes of creating more exposure that could potentially lead to sponsorship opportunities.
Some mix up their approach, combining words with physicality. For example, two-time World Team member Patrick Smith (77 kg, Minnesota Storm, 5PM #1) said following his win at Final X: Rutgers that to him, wrestling was "an act of worship." It is hard to embody the marriage between humility and gratefulness more than that, you might reckon.
But the shadow still looms. This has not been an easy year. Not for USA Greco-Roman wrestlers, not for wrestlers anywhere, likely not for you or your family or your neighbors. And it all went haywire quickly. People around the country, let alone the entire world, are experiencing adversity in all of its different forms. A spectrum of stresses and second-guesses, hypothetical discussions regarding a future everyone wishes would just hurry up and declare itself so as to bring light to the darkened mood by which too many have become victimized.
Things are, to put it plainly, kind of tough. The good news is that wrestling is beholden to an even tougher community. Which is why giving thanks couldn't be more pressing. It is altogether too easy for us to exhibit bright, shiny feelings of gratefulness when virtually everything in our lives is swimming along smoothly. It is quite another to know that even in the midst of uncertainty and pain, frustration and drama, that blessings are still, in fact, overflowing.
If Lindland has done anything, it has been to illustrate that point repeatedly. He was correct then, as he is now.
5 Things USA Greco Should Be Grateful For in 2020
5. Yes, the collegians.
Most (certainly not all) "Greco people" would have preferred that the season did not get shut down in March, and that the Tokyo Olympics came and went, hopefully with a haul of medals. And to be sure, there isn't necessarily a "bright side" to a pandemic. At best, you can observe a few fortuitous byproducts of the circumstances, tip your hat, and move on. To do too much more than that would be insulting for those who have lost so much over the past nine months.
But if the season had unfolded in conventional manner, there would not have been a Senior Nationals in October nor a Junior/U23 National event this month. But there were, and both tournaments gave way to a much higher degree of Greco participation from collegiate folkstylers whom otherwise would have bypassed these opportunities. We don't know who we'll see again. All we know is that we were inundated with a more-than workable sample size of potential prospects. Even if the majority of these wrestlers fail to return to Greco, there are at least a few whose experiences this fall have opened their eyes, which really, is all Greco usually asks for in the first place.
4. Illinois & Minnesota
Both the Illinois Regional Training Center, led by Bryan Medlin, and the Minnesota Storm have done their absolute best in the face of coronavirus restrictions to somehow or another train their athletes without shirking safety or sensitivity to the situation. When available, Storm athletes have gathered under appropriate measures to facilitate practices; similarly, Medlin has organized training sessions as well as shuffling wrestlers to wherever they need or are allowed to go. Therefore, it only makes sense that 1) the IRTC and Minnesota Storm both put forth extremely strong showings at the Senior event in October; and 2) that just last week, a makeshift joint training camp was held in Minnesota that included several IRTC athletes. Greco in the US needs these two programs to flourish in order to achieve World-level success, so it has been encouraging to witness their respective rates of activity in recent months.
3. The Army & Marine Corps Staffs
60% of the 2019 World Team was comprised of military athletes — four from Army/WCAP, two from the All-Marine Team. And not one of these athletes has competed in a match since the winter. There have been a handful of training camps and two National-level tournaments so far this autumn, not to mention talk of more possibilities which reside on the immediate horizon, and the Army and Marine wrestlers are still on the shelf.
Much more so than civilians, these athletes are encumbered by restrictive measures responsible for their exclusion from training and competition. Worse, it is an Olympic Year (again), making time a more precious commodity than usual. But through the leadership of Jason Loukides (Marines head coach) along with the vast staff of  Army coaches, they are finding creative, resourceful ways to adapt. Athletes are not lacking in motivation. They have questions, not a lot of answers, and all of them are frustrated. But what they aren't doing is wasting away in a fog. As soon as they can take advantage of actual competition, Greco in this country will be on the forefront of a new awakening.
2. Herb & Zac
Herb House — who basically functions as a "utility player" in the coaching realm between working for the New York Athletic Club and serving on the National staff — was a key figure in organizing the "Summer Series" of training camps that breathed new life into the program through July and August. House, with help from Lindland and others, took it upon himself to secure facilities, lay down guidelines and protocols, and involve as many athletes as is/was reasonable. It bears mentioning that House, in part, was motivated by fear. He would have done all of this, anyway. But he also saw what was going on overseas. He saw other nations beginning to roll out their own camps and didn't want the US program to fall behind heading into whatever it is we're calling this season.
Zac Dominguez is right there. Dominguez has had a very active role in recent years, as most are aware, but he has stepped up even more during all of this latest chaos. He has assisted House in terms of organizational matters; he hosted one camp at his MWC in August and will again next week; plus, Dominguez was the brains behind the Junior/Nationals in Omaha that went off without a hitch.
1. We do not forget Ottawa
On March 13, four United States Greco-Roman athletes qualified their weight categories on behalf of the nation at the Pan-American Olympic Qualifier in Ottawa, Canada. Ildar Hafizov (60 kg, Army/WCAP, 5PM #1), Alex Sancho (67 kg, Army/WCAP, 5PM #2), Joe Rau (87 kg, Army/WCAP, world #7, 5PM #2), and G'Angelo Hancock (97 kg, Sunkist, world #7, 5PM #1). Though not for lack of trying, it is difficult to explain what an enormous achievement this was.
Olympic qualification, especially in Greco, is exceptionally tough — and it has become even more so as the South and Central American nations have improved (not counting Cuba, naturally, which has always been excellent). Qualifying was the second biggest priority for the US not just for last year, but throughout the entire quad, with earning actual Olympic medals taking the top spot. That's how important this all was. World medals never cease in their value, but the Greco program in America lives and breathes based on Olympic viability. Such is the ultimate measuring stick in terms of funding, training concerns, further meaningful opportunities.
Getting four of six weight classes out of the way in Ottawa brought with it immense relief. Smith wrestled his heart out only to fall short to Yosvanys Pena Flores (CUB) and '18 World silver Adam Coon (130 kg, NYAC/Cliff Keen, world #13, 5PM #1) lost to '17 bronze Yasmany Acosta Fernandez (CHL). Both took third, admirably, but only top-2 qualified their weights in the tournament. That means whomever prevails at 77 and 130 kilos, respectively, at the Olympic Trials will travel to Sofia, Bulgaria in April for the Olympic Games World Qualifier, where once again top-2 stands as the line of demarcation.
Of course, there is somewhat of a cruel twist involved. The Pan-Am Qualifier, for Greco, occurred on Friday, March 13. The following day, much of the Northeastern United States went into lockdown. Before long, the rest of the nation was in the same boat. Fast-forward, and here most of us still are, stuck in suspended animation.
It's not all bad, however. Signs of improvement have gradually appeared. As mentioned, we've had actual tournaments recently. Also, a few streaming platforms have included Greco bouts on their cards.
No, things are not back to whatever normal used to look like just yet. For some, that has become hard to accept. Problem is, reality doesn't require our acceptance. Life bends to no one's will but God's. That is why coming back to gratefulness is critical.
For anguish, frustration, and confusion are fleeting. Eventually, there is rest, there is clarity. There is light. And there are always reasons for hope and optimism.
There are always reasons to be thankful.

Listen to "5PM42: A Dennis Hall Thanksgiving" on Spreaker.
SUBSCRIBE TO THE FIVE POINT MOVE PODCAST
iTunes | Stitcher | Spreaker | Google Play Music
Comments
comments