Just a few hours ago, Andrew Berreyesa (82 kg, NYAC/FLWC) arrived in Budapest, Hungary as he now in earnest prepares to accomplish a major objective: grab his second World-level medal in consecutive years.
In 2018, Berreyesa made quite the main stage debut by earning silver at the Junior World Championships. On Saturday, he will embark on a similar task, but in the U23 age division. Of course, Berreyesa is not shooting for silver. He readily acknowledges that when it is a World tournament, his inner dialogue declares, "Alright, this is the big one, this is the one you've got to win." It all makes a lot of sense. This is a wrestler who does not wake up in the morning entertaining thoughts contrary to his goals and desires.
And a big reason why Berreyesa is a candidate at this weekend's U23 Worlds is because of his development following that Junior silver. Save for the US U23 Trials, all of Berreyesa's Greco-Roman matches last year took place at the Senior level. While he did not wind up winning the Nationals or representing the flag in Nur-Sultan, the Cornell athlete did fortify his skill-set and further hone his competitive approach. It was a massive absorption period, and it couldn't have come at a better time. For not only has Berreyesa recently poured his efforts into potential U23 success — he has double-downed on his Greco career by taking an Olympic redshirt this season. Again, it goes back to his being able to observe an open mind along with an unwavering sense of self-belief.

As he was waiting for his connecting flight to Belgium from the beautiful, innovatively-designed Newark Liberty International Airport in New Jersey, Berreyesa checked in to discuss his training regimen, some of the experience he logged this past year, and how he clears the mechanism on match day.
Andrew Berreyesa — 82 kg, NYAC/FLWC
5PM: You have been preparing for this, your second World tournament. Does it feel differently, or will you not know that until you go on Saturday?
Andrew Berreyesa: I don't know, I feel like the preparation is different. Before, it felt like I was stepping into the unknown, in a way. I had never been to a World tournament, I had never stacked myself up against these guys. But now, I feel like there is a lot more transparency about what is going to happen, who these guys are, what level they're at, and what's expected of everything. So I feel a lot more prepared. Last year, I was just kind of shooting in the dark. This year, I have been a lot more focused on what needs to be done and why type of training is necessary for me to get another medal overseas.
5PM: You competed against Seniors pretty much exclusively this past season, save for the U23 Trials. How did getting a lot of match time in with Seniors influence your development?
AB: I would say that it has helped me a lot. I came back really hot from the Junior Worlds but after I took the time off for the college season, I came back thinking that I was just going be 'The Man' again, you know? I'm still going to ride this wave. Then I realized I wasn't on the same level at which I left off, and that I still needed to work a lot more towards it. There was still a lot of work to be done. A medal at the Junior level, if my career ended with just that it would be a massive failure. So it kind of brought me back to Earth to realize that is still so much more work to be done.
5PM: You had the Senior Challenge Tournament and then the U23 Trials, and your domestic season ended in June. Afterwards, did you and Ahad (Javansalehi) or any of your other coaches construct a plan for the summer with both the U23 Trials and this upcoming Olympic season in mind?
AB: I hadn't really had a straight answer from Coach (Rob) Koll in that they weren't sure if I was going to take an Olympic redshirt, or what exactly was going to happen. I was always banking on that really hard but I knew that, for sure, if I made the U23 World Team that I would redshirt. Because, I'm not going to wrestle until November 2nd, it's going to really cut into the school year and college wrestling. I knew that would happen.
So once I won (the U23 Trials), I was like, Okay, now it's time to focus solely on Greco and figure out what I'm going to do. I won't be in school, so I could travel a lot more. That's why I was totally game. I went to Colorado Springs twice during the summer, and then I went to camp in Poland and the tournament (Wladyslaw Pytlasinski Memorial). Then I was totally zoned in. I was really open to going overseas, spending a lot of time training, and becoming really prepared for this tournament.
5PM: Every summer, Pytlasinski features a lot of high-level Seniors. You had never competed in a tournament like that one previously, what did you glean from that experience and log away into your mental database?
AB: Yeah, that was my first Senior tournament overseas, and honestly, it was really just a disappointing time. I was there for 15 days and at the training camp for like, 12 or 13 days beforehand. That was pretty good, but it was a little lackluster. I kind of wish I had a coach there with me to watch what I was doing and analyze me. I like that way more than just being another body in the room. I mean, it was a good experience to get those feels and stuff. But I had already felt international feels like that before and I wanted to tune up on myself. It would be easier if I was wrestling and getting that feel while having a coach watching me. Then afterwards say, Oh, you did this and this and this. You might not have seen that.
I don't know if I got too much out of the camp. I think that might have been why I had such a lackluster performance. It was disappointing and weird because I wrestled (Brandon) Mueller first-round from the USA; and then in the second round I wrestled a guy from Poland (Dawid Klimek) who I wrestled five or six times in the camp. He wins by a point and then injury defaults out in the semis, and then I'm out of the tournament. It was really just strange, lackluster, disappointing…all of those.
5PM: You usually get that at age-group camps overseas, there are usually one or two coaches to bounce stuff off of. Are you saying it more like you would have enjoyed having someone there to assess your performance throughout the camp that way you could make adjustments prior to the competition at the end of the camp?
AB: Right, it would have been better I think if I had planned out for someone to give me feedback. I was there with Patrick (Martinez) and (Alex) Mossing, but they are training, too. They're not watching me to give me feedback. I think it's harder to analyze yourself in a situation like that because you might have thought this live go went one way in your head — but on the outside, No, you totally missed this, it was wide-open. You could have done this and this.
That's the kind of training I'm used to in Ithaca. Most of the training is centered around me and I'm getting constant feedback all the time, and I think that's what helps me to make bigger jumps. But there, I couldn't make as many big jumps as I would have if I had a coach or someone else giving me feedback, or maybe even just film so I could have watched it. It kind of changed my perspective on how to train and what I need as a wrestler to make as many big jumps as I want to make.
5PM: Patrick Martinez, what kind of addition to the room has he been thus far?
Andrew Berreyesa: He has been great. He is an interesting puzzle to figure out as far as wrestling with him and training with him, and trying to score on him. Especially me being a little smaller than him and him being a little stronger than me. It is interesting, it has been fun trying to figure out what he does and trying to get to him in practice. It has really brought a change in perspective because you might be used to wrestling one person or one feel, and Patrick is a completely new addition to the room. It is just way different and fun (laughs).
As far as training with him, he is eight-years older than me, so when you add the whole level of experience and knowledge that he has been able to pass down to me and just being a friend, it has been awesome.
5PM: Is it difficult to wrestle with him because of the size of his head?
AB: (Laughs) Yes.
5PM: You are here attempting to earn a medal in consecutive years at a World Championships and you're going the same weight class of 82 kilos. But for the Olympic Year, you're going 77. How have you been reconciling these differences? Do you have to mind your weight now, how have you been approaching this little juggle here between weight classes?
AB: Honestly, 82 kilos is about my weight where I walk around at. Before practice this morning I was 82.7 kilos. It's really not a problem at all. I haven't been thinking about going 77 yet. I made 79 in Poland and it was really not hardly a weight cut at all. I worked out right before weigh-ins and that was the only thing I did. I made 165 pounds for the whole college season. That was hard, but I was making it Friday and Saturday every week. I don't have an extra thing I'm doing for 77. Honestly, I have been trying to keep my weight up for this tournament because I have been really light lately. 82 is just what I weigh. 77, I don't even think it's going to be a tough weight cut at all to be honest with you.
5PM: You're a few days out from the Worlds now. Is there a special thing waking up for this type of tournament? Is there an extra blip of adrenaline? Or do you reckon it's the same feeling as waking up for any other tournament, like a Pytlasinski or whatever else?
AB: No, it's way different. If you wake up for the Poland tournament, it's like, Okay, time to wrestle. But for this, no, the lights are on. Waking up for the Super Bowl is going to be different than waking up for a preseason game, or something like that. It is definitely a different feeling going into it. I think it has always been hard for me to go to sleep the night before any big tournament and really try to put it out of your head. It's like, Alright, this is the big one, this is the one you've got to win. Always when I wake up and it's time for competition it is, Okay, time to bring the A game.
5PM: Do you have any kind of rituals before a big tournament? Any type of garment you have to wear, or thing you need to do?
AB: Hmmmm, no. It's kind of just whatever mood I'm in at the moment. Like right now, I can tell you that I'm probably going to watch Spiderman 2 before I go to bed because I've been in that mood for a while (laughs). Some superhero movie. Specifically Spiderman. It's just what kind of mood I'm in. It's not really any certain thing every single time.
5PM: Are you looking forward to going to Budapest since basically everyone in the USA Greco-Roman program seems to love it?
Andrew Berreyesa: I know, everyone and their mother have been telling me how awesome Budapest is. It really better live up to the hype because there are a lot of expectations so far.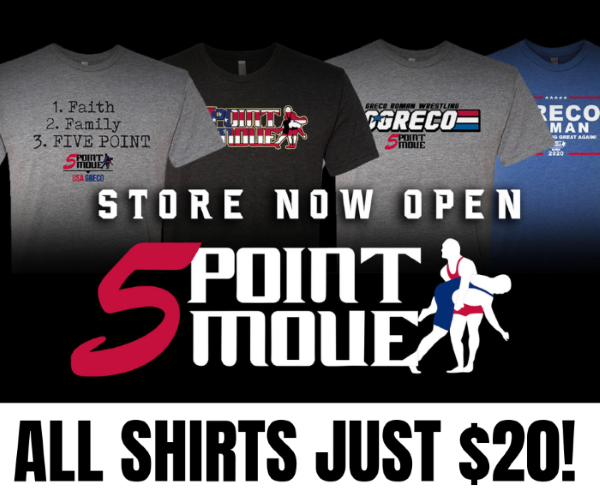 Listen to "5PM28: G'Angelo Hancock, Joe Rau and Max Nowry" on Spreaker.
SUBSCRIBE TO THE FIVE POINT MOVE PODCAST
iTunes | Stitcher | Spreaker | Google Play Music | RSS
Comments
comments