It will be a fresh five hitting the tarp for the US on Saturday morning.
Friday afternoon did not bring new hope to three American athletes, as Jesse Porter (77 kg, NYAC/OTS), Matt Finesilver (87 kg, Blue Blood WC), and David Tate Orndorff (TUR) were all officially eliminated when their Day 1 vanquishers fell in the semifinals.
The group going tomorrow for the US happens to include three Junior World medalists — Taylor LaMont (60 kg, Sunkist/UVRTC), Peyton Omania (67 kg, MSU/CYC), and Andrew Berreyesa (82 kg, NYAC/FLWC). Lenny Merkin (NJRTC) will be competing for the first time at a World event, and Chad Porter (97 kg, Sunkist), a Junior World Teamer last year, is also set for action.

LaMont begins in the round-of-16 with Krisztian Kecskemeti of Hungary. A victory against Kecskemeti will put LaMont in the quarters opposite either Ion Bacalu (MDA) or Dimitar Sandov (SUI). One step further, and Mehdi Nejad (IRI), Armenian Armen Melikyan (who was fifth at U23 in '18), or Martin Velev (BUL) would remain after that.
AT 6t kilograms, Omania starts off in the round-of-32 against Giorgi Kurtanidze (GEO). Although he does not have the resume some of his teammates boast, Kurtanidze is a very stout offensive threat and could present a fun match-up. If successful there, Omania will face either Sebastian Nad (SRB) or Khalmurat Ibragimov (KGZ) next. And should Omania make the quarterfinal, a step up in competition against reigning champ (and the most talked-about wrestler in the sport right now) Mohamed Elsayed (EGY) would likely materialize.
Merkin has a bye to the round-of-16 and will greet the winner of Aleksa Erski (SRB) and Leos Drmola (SVK). Both Erski and Drmola have logged some miles at Senior, but do not carry the same degree of explosiveness as the Princeton grappler.
Berreyesa will do battle in the round-of-32 with Aivengo Rikadze (GEO), who should present a nice test in which to begin the day. If Berreyesa prevails, either Maksym Zakharchuk (POL) or Stanislau Shafarenka (BUL) will be waiting in the wings. Also on the bottom side of the bracket are returning U23 bronze Tamas Levai (HUN) and Russian National bronze Milad Alirzaev (RUS).
Porter, the third American on Saturday to start in the round-of-16, goes up against Naoki Matsumoto (JPN). This side of the bracket is stacked. The proceeding round would offer Temur Mamajanov (UKR) or Dzmitry Kaminski (BLR). As for a potential semifinal contest, Porter could have '16 Junior World champ/'18 U23 World bronze Giorgi Melia (GEO), two-time Junior World medalist Artur Sargsyan (RUS), or '19 Asian Championships gold Uzur Dzhuzupbekov (KGZ).
Day 2 kicks off at 10:30am from Budapest, Hungary (5:30am ET) and can be viewed live in the US on Trackwrestling.
2019 U23 World Championships
November 1-3 — Budapest, Hungary
TEAM USA DAY 2 DRAWS
60 kg — Taylor LaMont (Sunkist/UVRTC)
vs. Krisztian Kecskemeti (HUN)
67 kg — Peyton Omania (MSU/CYC)
vs. Giorgi Kurtanidze (GEO)
72 kg — Lenny Merkin (NJRTC)
vs. Aleksander Erski (SRB) or Leos Drmola (SVK)
82 kg — Andrew Berreyesa (NYAC/FLWC)
vs. Aivengo Rikadze (GEO)
97 kg — Chad Porter (Sunkist)
vs. Naoki Matsumoto (JPN)
TEAM USA DAY 1 RESULTS
55 kg — Brady Koontz (TMWC/Ohio RTC)
LOSS Amangali Bekbolatov (KAZ) 8-0, TF

63 kg — Dalton Roberts (NYAC/OTS)
LOSS Yerner Fidakhmetov (KAZ) 9-4

77 kg — Jesse Porter (NYAC/OTS)
LOSS Sajan Sajan (IND) 6-0

87 kg — Matt Finesilver (Blue Blood WC)
LOSS Kiryl Maskevich (BLR) 9-0, TF

130 kg — David Tate Orndorff (NYAC/UVRTC)
WON Deepak Poonia (IND) 6-1
LOSS Osman Yildirim (TUR) 8-0, TF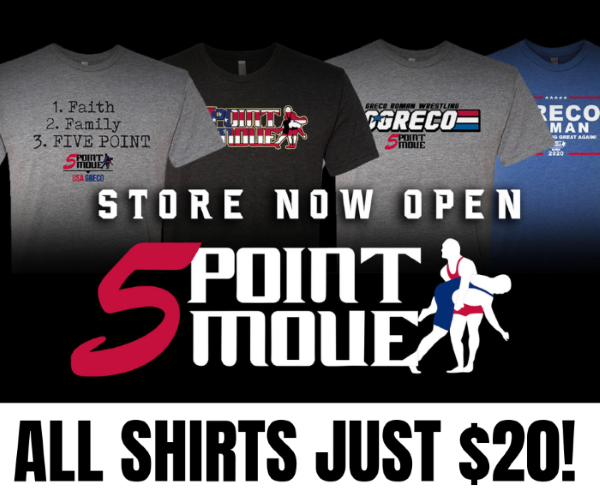 Listen to "5PM29: Junior world medalists Alston Nutter and Peyton Omania" on Spreaker.
SUBSCRIBE TO THE FIVE POINT MOVE PODCAST
iTunes | Stitcher | Spreaker | Google Play Music | RSS
Comments
comments