Alex Sancho (67 kg, Army/WCAP) had firmly established himself as a top domestic competitor by the opening of the of the 2016-17 season. What he did, what he is capable of, wasn't a secret. That's what happens when there is a 22-year-old on the scene who has already popped up in a Trials final, made consecutive National Team appearances, and keeps collecting the scalps of higher-profile names. These things are noticed, by everyone, especially in a country where most Senior athletes are not adequately developed for international competition until their late-20's.
So when the Rio quad flipped over to the current Tokyo lustrum, the expectations for Sancho had been raised. The goal of firmly, finally, making a World-level Team still hangs in the air as Sancho's top competitive priority. It is an achievement that has eluded him thus far at the Senior level, thanks in no small part to now-teammate/chief domestic rival Ellis Coleman. They've built quite the history together, the brunt of which you can trace back the third-place bout at the '16 Trials — a match Sancho won. He won again seven months later, too, in the semis of the inaugural non-Olympic Trials. But Coleman got the nod in the '16 National final, and prevailed against Sancho again in both the '17 and '18 Trials finals series, respectively.

To his credit, Sancho did take one match apiece from Coleman in '17 and '18, a fact which distinguishes him as the only US wrestler to have defeated Coleman in what has now been a period of nearly four years.
But domestic competition represents merely one half of an American wrestler's call to action. The other half, and of equal importance, is foreign experience. Here is where you will find Sancho's wheelhouse. Something about the machinations which arise from competing against overseas adversaries just seems to bring out a different element in his approach. Most who are familiar with Sancho will read a sentence like that and say, Oh, well sure, he's great from par terre. And in most cases, that would be the correct response. Sancho is an extraordinarily gifted American par terre wrestler.
Except in 2017, when Sancho earned his first overseas gold medal in Croatia, forced par terre was not even part of the curriculum.
2017 Grand Prix Zagreb Open
March 11 — Zagreb, CRO
The tour kicked off the previous week at Denmark's Thor Masters, where Sancho placed fourth at 71 kilos (falling to Patrick Smith in the third-place bout). Thor Masters, what with its Nordic-system format and enormous number of participants, is as much about survival as it is "getting matches in", most assuredly so back when the gargantuan tournament was a single-day affair. Sancho had piled up five bouts before he ever slapped hands with Smith for bronze, which hopefully provides a clearer context when demonstrating just how brutal that event used to be (and in many ways, still is).
The US delegation hung around in Denmark following the tournament before shuffling over to Zagreb, Croatia in advance of the aptly-named Grand Prix Zagreb Open. With a week in between to get down to fighting weight, Sancho entered at 66 kilos, his best fit. In the quarters, he ran right over Jurica Grbincek (CRO) to the tune of an 8-0 wipeout, putting him in the semifinals opposite Mate Nemes (SRB, world #3) — a match that stands out perhaps even more than his gold-clinching final.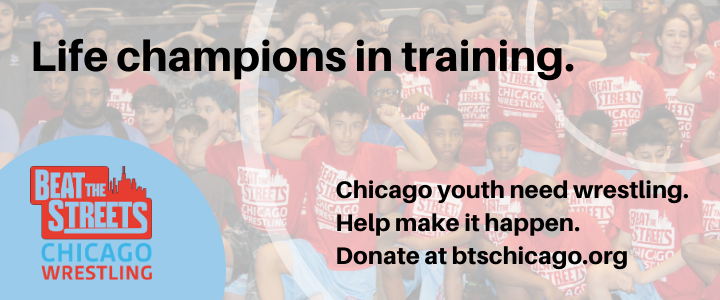 Nemes then compared to Nemes now is not a drastically different conversation. He was plenty viable in '17, with a Euro bronze under his belt among other relevant credentials. The key is that now, Nemes is a World bronze ('19), and his stock has become elevated accordingly. But — just the observation that this matchup was a possibility upon peering at the bracket that morning offered the requisite amount of intrigue for those of us who pay strict attention to such things.
The early stages were sludgy. With no ordered PT on the table, Nemes and Sancho traded fleeting tie-ups with neither finding much ground. Sancho was, of course, much more angular. He is almost never straight-on, because he cuts corners off of ties so well; and plus, he can quick-drag to the back for takedowns, and occasionally, even one of those cascading side lifts. But none of those were an option, for Nemes staunchly fought to keep position with underhooks. He did his job well. If there was one area of particular struggle for Sancho, it was that he was lowering his head just enough to draw chirps from the ref.
No par terre meant forcing the issue. Nemes had collected a passive point midway through the first and the pace suggested that a breaking point was necessary. This is where the value of Attempts cannot be understated. Realizing he had to force the issue, Sancho went for an arm spin. The result was one of the more innovative and remarkable scores achieved by any US wrestler post-Rio (video below).
Let's check that out again. Even in less-than-pristine video quality, Sancho's attempt on the arm is fast. He also got very deep beneath Nemes' hips, leaving the Serbian with virtually no time to react. Instinctively, Sancho reaches up and pulls Nemes over and to his back for four points. They would also be the only points Sancho scored through the remainder of the match.
The second period was painfully similar to the first. Nemes operated as though he was expecting a par terre chance, doing the bare minimum of using underhooks as rest holds and waltzing in small circles. Sancho wasn't a ball of activity in his own right, though there was hardly any give from his opponent. Nemes did not make one discernible attempt in the second period — and eventually, Sancho was rung up for a caution-and-two that wound up tying the score (Sancho still held criteria due to the four-pointer).
The video below provides a look at the caution (and Sancho's hilariously defiant reaction) as well as the end-of-match ritual.
The finals was a good one — and against another wrestler who was just on the verge of taking a step up in his career. For gold, Sancho faced Mihai Mihut (ROU), who in '18 earned bronze at the U23 World Championships (along with a host of other international medals). On this day, Mihut presented a stiff challenge, yet once again, all Sancho required was one opportunity to strike. And when he did, he made it count.
In a surprising twist, Sancho actually took the first passive point. Zagreb has always been decent to the US, in the sense that it's not completely skewed against the stars and stripes with regards to bad calls. They dug in, a little more peskiness attached to Mihut than Nemes. In addition, Mihut might actually pack a little more power, but it was power he didn't get to use very much since Sancho was dictating where each tie-up began and ended. He was, as if to say, on a roll.
Mihut betrayed a slight tendency to dip his head when upon his entrances. In the first, Sancho tried snapping once but lost his grip. He had another shot in the very next exchange and came up with a four-spot.
Mihut reversed Sancho soon after hitting the deck, bringing the score to 5-2. A passive point in the second narrowed the gap further, but by then Sancho was on cruise control. The win provided his first tournament title earned on foreign soil, and was also the only gold yielded by an American that day. The US has been back to Zagreb each year since and have yet to put another athlete on top of the podium.
Epilogue
Seven weeks after Zagreb, Sancho fell to Coleman in a tightly-contested best-of-three series at the World Team Trials. His slate of activity did not end there, however. Later that summer, Sancho and Ben Provisor (77 kg, NYAC) were the only two US athletes to place at the Tbilisi Grand Prix in Georgia, with both coming away with silver. In October of '17, Sancho won the first-ever U23 World Team Trials.
He has kept it going and then some. Sancho joined Army/WCAP in the fall of '18, resulting in his being absent for most of last season. He returned to action in full this past November by drumming up his third Bill Farrell Memorial gold. Fast-forward about a month, and there was Sancho breaking through with his first National crown. What happened next was even bigger: in March, Sancho was one of the four American heroes in Ottawa who qualified their weight categories for Tokyo 2020ne. Due to the Olympic Trials procedures in place (and which cannot be changed), he already enjoys a spot in that tournament's final round.
But he'll always remember Zagreb, and Nemes, and the win over Mihut. This performance should not be acknowledged for igniting Sancho's career. That would be a reach. What it should do, is remind all interested parties in effect of how incredibly dangerous the prospect of having to tangle with an athlete who understands the value of risk, and how to capitalize when it matters most.

Listen to "5PM37: The wildman Sammy Jones" on Spreaker.
SUBSCRIBE TO THE FIVE POINT MOVE PODCAST
iTunes | Stitcher | Spreaker | Google Play Music
Comments
comments